Discover more from City Hall Watcher
A weekly newsletter about Toronto City Council by Matt Elliott
Over 6,000 subscribers
A cornucopia of consultants
City Hall Watcher #90: What City Hall spent on consultants in 2019, a parking ticket chart, a Council preview and more, as the countdown to issue 100 begins
Hey there! Welcome to the 90th issue of City Hall Watcher. This newsletter marks milestone issues by releasing them FREE to a wider audience of subscribers, so please enjoy.
This week: City Hall spending on consultants and consulting services was up huge in 2019. Because I love lists, I've compiled the five richest consulting gigs. Also: a parking ticket chart. People love those. And, of course, a preview of the September meeting of Toronto Council, with links to all the items you should watch.
If you're already a subscriber: thank you. If you're a subscriber since issue #1: THANK YOU, in all caps. If you're not a subscriber: now is as good a time as any to jump on board!
City Hall Watcher delivers each week to more than 700 people. The audience includes mayors, city councillors, senior staff, labour leaders, advocates, activities and — my favourite — engaged Toronto residents who want to keep tabs on what's happening at their City Hall.
Subscribing costs just five bucks a month or fifty bucks a year, plus tax — a bargain and a deal. The money you pay supports me as an independent freelance journalist. It also allows me to offer free subscriptions to students, new journalists and anyone else who can't afford a subscription.
When I started this, I had no idea what it would become or how long it would last. It has since become a significant part of my income and a significant part of what I spend my time on each week. The average issue clocks in at more than 2,000 words — sometimes too long, I know — as your support and positive feedback has led me to explore the hidden corners of City Hall like the Open Data Portal and the Lobbyist Registry.
If you sign up now, you'll get next week's LOBBYIST WATCH issue, with my summary of lobbying activity in the month of September. If you're not already on board, I hope you'll join us for the countdown to issue #100, for which I will need to commission a fireworks display or something.
— Matt Elliott
@GraphicMatt / graphicmatt@gmail.com / CityHallWatcher.com
---
The richest City Hall consulting gigs of 2019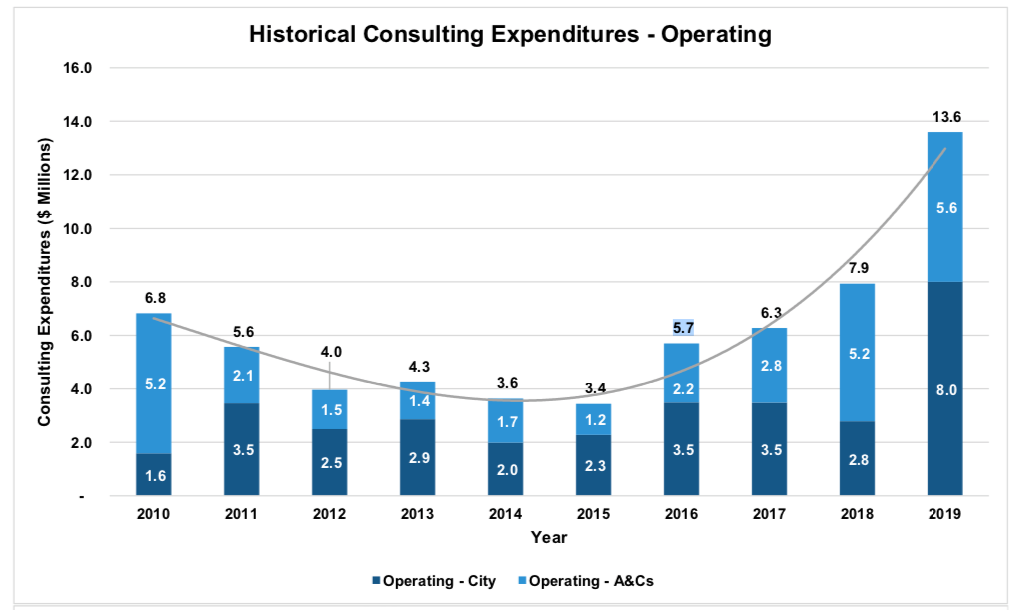 Charts credit: City of Toronto report
A report heading to next week's meeting of the General Government & Licensing Committee details a swift rise in the amount City Hall spent on consulting services in 2019.
Consulting expenses from operating budgets by city divisions and agencies & corporations (A&Cs) nearly doubled from 2018 to 2019, increasing from $7.9 million to $13.6 million. That's significantly more consultant spending than in any year since 2010. The bulk of the increase was in fees paid by internal city divisions, which went from $2.8 million to $8 million.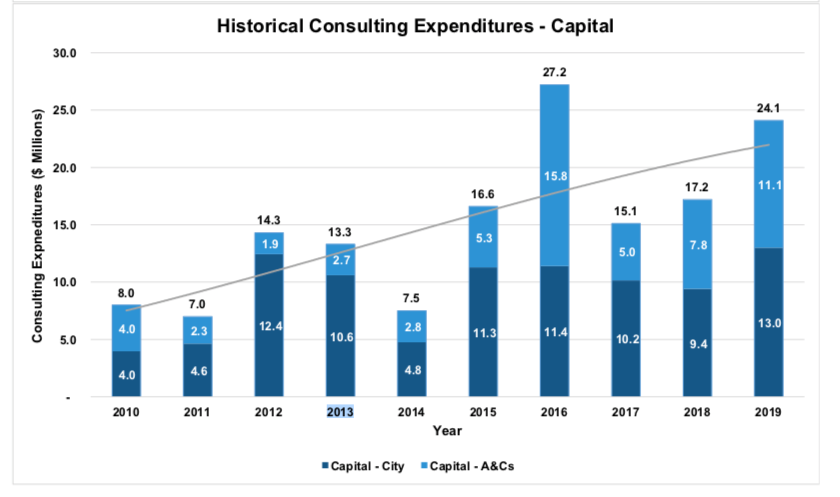 On the capital budget side, 2019 also saw a significant increase in consultant spending, but it wasn't record-setting. Still, the overall decade-long trend has been a steady increase in consultant spending.
Since 2010, total spending — from the operating and capital budgets — on consulting services has more than doubled.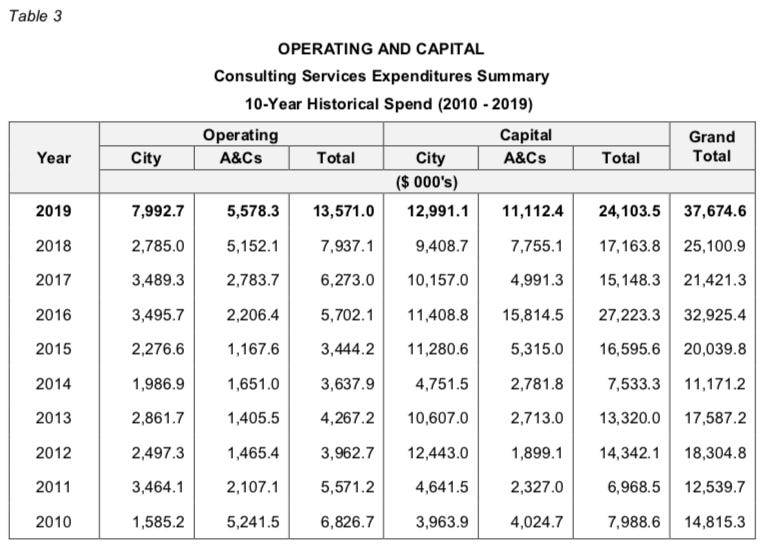 "Consulting services supplement critical skill sets and expertise that are needed just-in-time, such as service delivery modernization, and are not available within existing staffing, as well as enable the City to quickly complete essential initiatives while maintaining existing service levels," says the report.
It's a fair point. Spending on consultants can be great value. This analysis isn't meant as an anti-consultant screed. But the trend in consultant spending is illuminating about how City Hall works, and how it has evolved under Mayor John Tory and City Manager Chris Murray.
So, what kind of stuff are consultants getting paid to do? Let's look at the five consulting gigs that cost the most cash in 2019.
1. Ernst & Young: $2,669,450 for "professional services" (operating)
Ernst & Young LLP received payment on eight contracts in 2019 totalling $4.1 million in operating budget expenses, almost all of which came via Finance & Treasury Services. Of the $7.9 million spent on consulting by city divisions from their operating budgets, about half of it went to Ernst & Young.
The biggest chunk was for "Professional Services for the implementation of Category Management within [Purchasing & Materials Management] based on a fees-at-risk model." The City say this work reforming the procurement process will result in $41 million cost savings or cost reductions, which would be a nice ROI if it materializes.
2. CH2M Hill: $1,123,186 for "fare collection business case" (operating)
Engineering consultancy CH2M — a subsidiary of Jacobs — received over $1.1 million to "provide a review on the Fare Collection Business Case and Strategy and Innovation Functions" by the TTC.
3. CH2M Hill: $1,142,322 for "new streetcar quality assurance" (capital)
CH2M — who, according to Wikipedia, played an important role in the construction of the Panama Canal —  also got another $1.1 million to "provide advice for New Streetcar Quality Assurance." Hopefully this issue is less complicated than the Panama Canal.
There are actually a series of TTC consulting contracts related to new streetcar QA for 2019:
$334,233 to Comtech Group

$556,195 to LTK Consulting Services

$173,843 to SNC-Lavalin
4. Steer Davies Gleave: $1,123,377 for "Yonge Street Environmental Assessment" (capital)
Steer Davies Gleave's $1.1 million payment for their work on the Yonge Street EA between Queen Street and College Street. They were awarded the contract after an RFP in 2017.
5. Ernst & Young: $941,280 (operating)
Oh, it's them again. Our old pals Ernst and also Young were paid $941,280 in 2019 for the "values-based outcome review" that came after Premier Doug Ford's various aborted attempts to force budget cuts on municipalities. It was another attempt to locate oodles of wasted spending at the local level that didn't really go anywhere.
The next five
$761,995 to Wood Environment & Infrastructure via Transportation Services to develop a plan for goods movement in the Finch West Area. (operating)

$580,863 to CH2M Hill via the TTC to "review and develop specifications for different types of non-revenue vehicles and equipment." (capital)

$556,195 to LTK Consulting via the TTC for new streetcar QA. (capital — noted above)

$503,792 to WSP Canada via the TTC to conduct "Wuality [sic] Review of various eBus manufacturers." (capital)

$399,751 to Edelman PR via Toronto Police Services to "develop and deliver strategic communication plans for the Culture Change Program." (operating)
Consulting on the sidewalk
The list of consulting spending includes 12 contracts related to Sidewalk Toronto's Quayside Project, paid for by the Toronto Waterfront Revitalization Corporation, better known as Waterfront Toronto. The contracts total $1.3 million in 2019 capital budget spending.
The biggest sums were $349,628 to McCarthy Tetrault LLP "[t]o provide advice on Quayside Project" and $251,083 to Swerhun to execute a public engagement strategy for the project, which ended up cancelled earlier this year.
Other notes
Toronto Community Housing Corporation paid crisis affairs firm Navigator almost $100,000 across two contracts for "creative communications". The first, for $50,000, was dated February 28, 2019, while the second for $45,301 was dated April 1, 2019.

Bombardier was paid $176,846 in capital funds by the TTC to "provide consulting for safety and reliably operation of SRT vehicle."

Toronto Police Services paid for $363,840 worth of consulting on their body camera project in 2019.
---
30 years of parking tickets, charted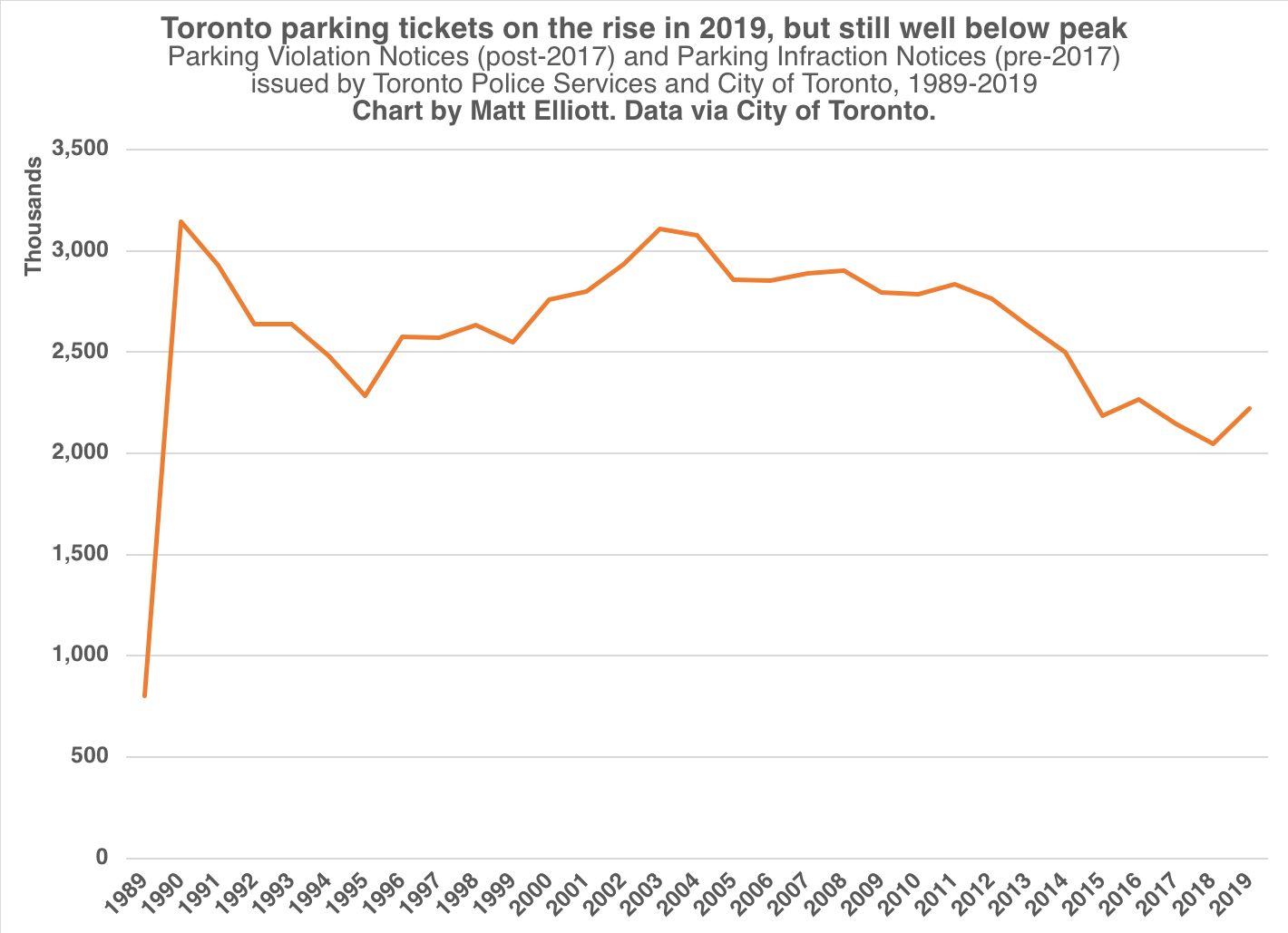 Another report heading to General Government & Licensing Committee next week includes stats on the number of parking tickets issued in 2019. By grabbing some historic data, we can compare all the way back to 1989.
The number of tickets was up slightly in 2019 compared to 2018. In 2019, police officers and municipal licensing officers wrote 2,219,544 tickets, up from 2,045,498 in 2018. But that's still more than a half million fewer tickets than were written in 2009, when 2,794,460 parkers were nabbed. The peak in the thirty years of data we have is still 1990, when 3,144,174 tickets were written.
---
Seriously, if a parking ticket chart isn't enough to convince you to subscribe, what's it going to take?
---
Council preview: September 2020
After a quick summer break, Toronto Council is back in business starting this Wednesday with an agenda full of all kinds of stuff.
Here are some items to watch:
Main Events
Undercard
Members moving motions
As is my custom, I will be covering the entire Council meeting live via my Twitter account, @GraphicMatt. It gets started at 9:30 a.m. on Wednesday.
---
More from Matt: on the virus and voting
For the Star last week, I looked at Toronto's COVID-19 numbers from August versus the numbers of late, and felt some regret, and some despair.
THIS WEEK: A capper to the saga of Jim Karygiannis, and an argument for what should come next: democracy. Look for it in your favourite newspaper.
---
In other news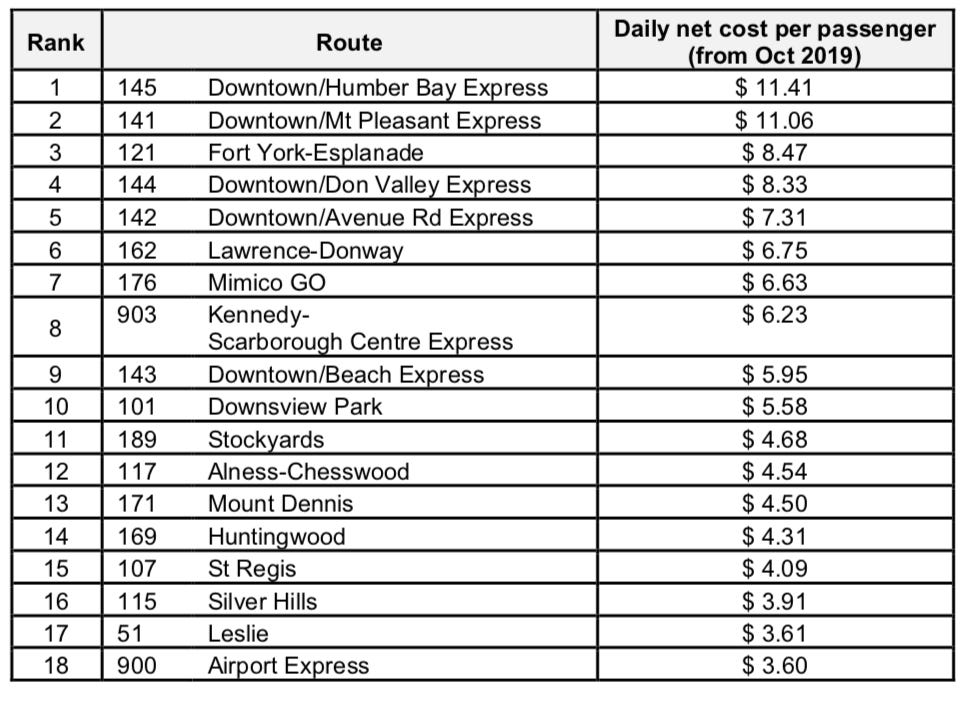 Credit: TTC
---
The week at Toronto City Hall
MONDAY: It's Yom Kippur. Hoping it was restful and peaceful for all who observe.
TUESDAY: 🏚 The Toronto Preservation Board gets together. The most contentious item on their agenda has to do with the new University of Toronto Centre for Civilization, Cultures and Cities to be located next to the ROM. The construction will require demolition of the McLaughlin Planetarium — a move preservation staff are supporting in their report. Several community organizations have written to the board urging them to put the plan on pause.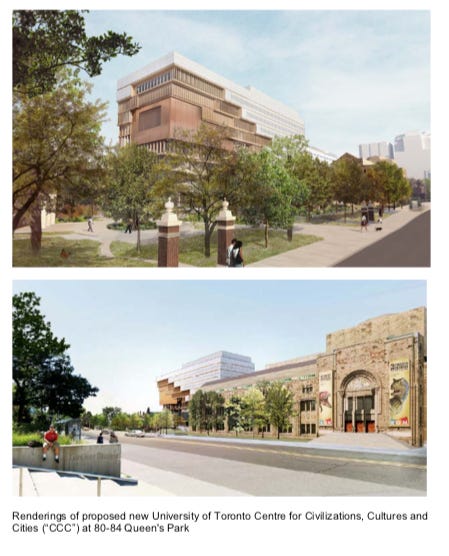 WEDNESDAY: 🏟 Toronto Council meets. There's a full preview above.
🏆 Bid Award Panel contract award of the week: $35 million for PPE and Hand Sanitizer.
THURSDAY: 🏟 Council continues.
FRIDAY: A third day of Council? Stranger things have happened!
---
City Hall Watcher #90
Thanks again for reading! I hope some of you will stick with us and become a subscriber. In the months ahead, there will be a whole lot of news.
Subscribers get access to the complete 90-issue archive.
I'll be back next week with a fresh LOBBYIST WATCH and a wrap-up of this week's Council meeting. Until then: Let's Go Blue Jays.