Discover more from City Hall Watcher
A weekly newsletter about Toronto City Council by Matt Elliott
Over 6,000 subscribers
City Hall Watcher #1: Richmond & Adelaide are bike lane superstars
Plus: naming and shaming on voter turnout, bring back the Ontario Place mega maze & more
Hello. Thanks for subscribing to City Hall Watcher. Let's see what's going on at City Hall this week.
Richmond & Adelaide: Superstar bike lanes more popular than most things in Toronto
This Thursday, the city's new Infrastructure & Environment Committee will debate a report on the separated bike lane pilot project on Richmond and Adelaide. (Yes, it's still a pilot project — a damn long one.)
Though the transportation bureaucrats can't just come out and say it, the underlying message to councillors to clear: these bike lanes have been ridiculously successful and you would be nuts to do anything but vote to make them permanent.
Let's look at the data.
At the busiest point — Spadina Avenue — the lanes carried 6,160 cyclists per day according to data collected in September 2018. They're used by more people than seven of the subway/RT stations operated by the TTC, including two new stations — Highway 407 and Downsview Park — just constructed at a cost of hundreds of millions of dollars.
Ridership has grown, and fast.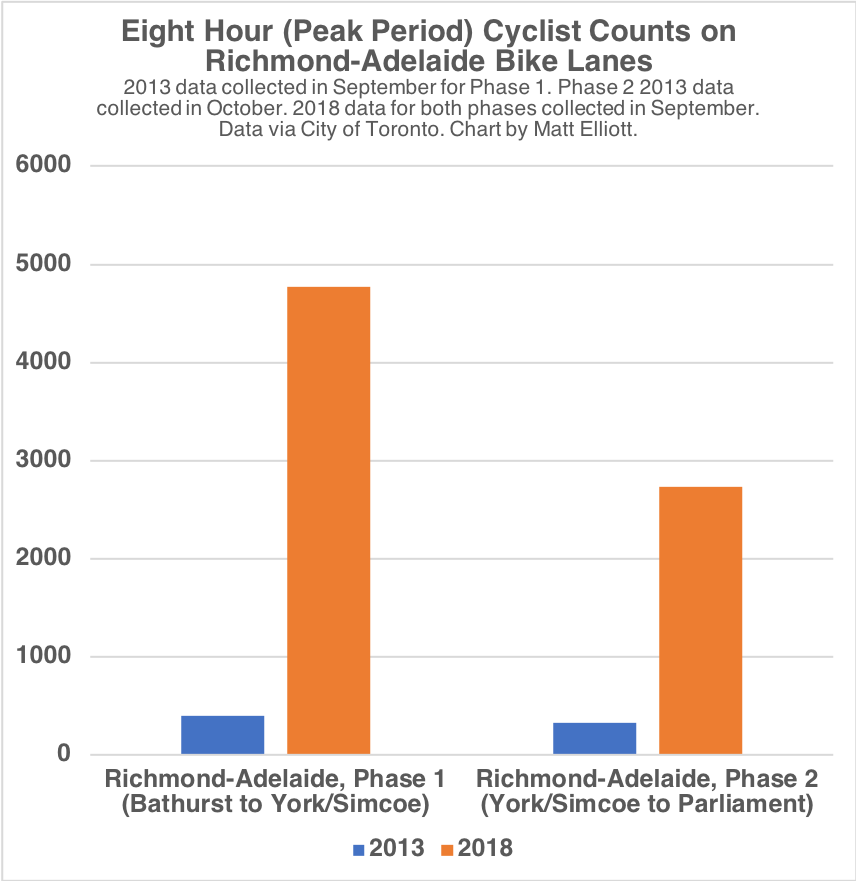 Before the bike lanes, about 400 cyclists dared to use Richmond or Adelaide between York/Simcoe and Bathurst during the busiest times of day. Now? More than ten times as many. (And much of this appears to be new ridership — newbies taking up cycling — as cyclist volumes on parallel Queen Street and King Street saw only modest declines over this period.)
Then there's this blow-away amazing section:
Cyclists make up approximately one third of all vehicles entering the Downtown Core in the morning along Adelaide (32%) and leaving the Downtown Core in the afternoon along Richmond (30%). West of University Avenue, the cycle tracks on Richmond- Adelaide in the peak period direction, carry a higher volume of vehicles per lane than the motor vehicle lanes. 
Let me fire up the wonk-to-English translator for you: in morning and afternoon rush, the lane carrying cyclists is moving more people than any one of the nearby car lanes.
What about the traffic chaos that bike lanes are supposed to create, you might ask? Well, good news: the chaos didn't happen.
City staff do note that the average car trip time has increased by about 91 seconds on Richmond Street, but that's partially offset by — and pay close attention to this part— a 57 second decrease on Adelaide, meaning the net impact to the typical car commuter on a daily basis is about 30 seconds.
And the city found that most drivers like the lanes, finding it more comfortable to drive when cyclists have dedicated space as opposed to sharing the same roadway. Cyclists are glad for the separation too, because cars are hitting them less. Collisions involving cyclists are down 73 per cent since the lanes were installed. 
Of people surveyed by the city, 93 per cent want the bike lanes made permanent. I'm trying to think of other things in Toronto that could conceivably have a 93 per cent approval rating and I'm coming up empty. Sitting on patios the second it gets kind of warm? Standing in line for stuff? The bat flip?
And here's the kicker: in the context of a city that spends more than $13 billion every year, these lanes cost almost nothing. An estimated $780,000 for the installation of the two sections. Street sweeping and snow clearing will cost $197,600 per year. The city will also incur another $315,000 one-time cost if councillors opt to move the Adelaide Street bike lane to the north side of the street, which staff are recommending to improve connectivity.
Compare the money the city spent and will spend on these bike lanes with the $2.3 billion the city will fork out over the next ten years rehabilitating the Gardiner Expressway, or the planned $1.4 billion the city expects to spend fixing local and major roadways, and the lesson is clear: it's hard to beat the return on investment cities can get from bike infrastructure done right.
Voter Turnout 2018: Downtown turnout was low, and also some naming and shaming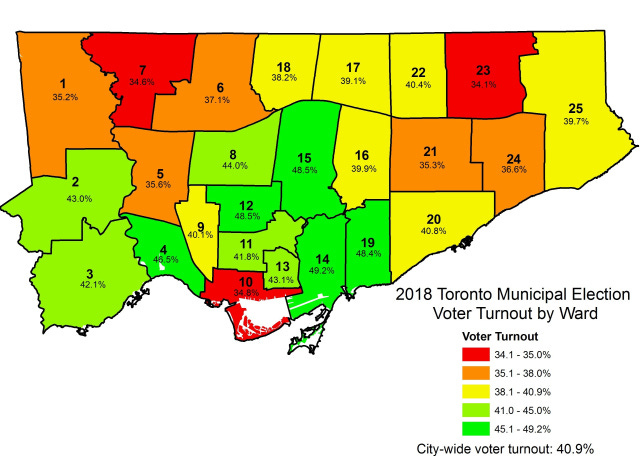 Map by Sean Marshall. Read his post here.
Sean "Municipal Map Mastermind" Marshall has a great post about voter turnout in last October's Toronto election. It's worth looking at.
The thing that jumps out at me: look at that low turnout in Ward 10. A lot of condo dwellers seem to have neglected to vote, which could be chalked up in a cranky-old-man way to younger demographics not being as politically aware. But also? This election was not one where downtown or youth issues got a whole lot of attention. It's not difficult to understand why some of these voters wouldn't be very inspired to head to the ballot box. 
It also suggests that candidates could do a better job of canvassing and organizing in this area. A lesson for 2022?
For nerdy types: the poll-by-poll data released by the city is a treasure trove of interesting details. The most democratically-dedicated polling location appears to be the Scarlett Heights Retirement Residence, where all 42 registered voters plus another 52 late additions cast ballots — a 100% turnout rate. Role models.
Some of the less engaged polling locations: 
IN OTHER NEWS: 
THE WEEK AHEAD AT CITY HALL
All these meetings start at 9:30 a.m. and will be streamed on the city's YouTube channel. 
CITY HALL WATCHER
This has been the first issue of City Hall Watcher. I skipped the origin story and got right to the main saga. 
You can send in questions or tips to graphicmatt@gmail.com. Or just reply to this message in your Inbox. I'm happy to run with ideas or answer any burning queries you have. You can also try requesting specific charts. I'll do my best.
This newsletter will be free for the next two issues, including a special MUNICIPAL BUDGET LAUNCH SPECTACULAR on January 28. Following that groundbreaking issue, continuing to subscribe to City Hall Watcher will cost you just five bucks a month, or fifty dollars a year. That's a bargain and a discount!
I will be offering free subscriptions to journalism school students, other people just getting started covering Toronto City Hall and municipal issue advocates who are not able to afford a subscription. More details on this to come.
See you next week.