Discover more from City Hall Watcher
A weekly newsletter about Toronto City Council by Matt Elliott
Over 6,000 subscribers
City Hall Watcher #30: Hot Lobbyist Watch summer
In this issue: Blue Jays Prez Mark Shapiro makes Lobbyist Watch debut, Uber and Lyft lobbyists surge ahead of Council vote, Purolator wants eCargo bikes & more!
Hey there. Welcome to the milestone 30th issue of City Hall Watcher. This newsletter celebrates milestones with FREE issues, so you're getting this for zero dollars.
This issue includes my monthly LOBBYIST WATCH feature, where I take a look at what lobbyists were up to at Toronto City Hall.
If you dig it and want to become a regular subscriber, you can get on board for just five bucks a month or fifty bucks a year — it's a bargain and a deal.
City Hall Watcher subscribers include members of Council, senior-level staffers at City Hall and hundreds of other municipal movers and shakers. It's a great time to sign up and support independent journalism.
Your paid subscriptions also help support the Free Subscription Program I offer to students, aspiring journalists and others who can't afford the cost.
If you have any questions about subscribing or would like an invoice, reply to this message or send me a note at graphicmatt@gmail.com.
Thanks for all the support,
Matt Elliott / @GraphicMatt
---

Lobbyist Watch is compiled through extensive digging through the Toronto Lobbyist Registry.
Disclaimers: The Lobbyist Registry records interactions between registered lobbyists and politicians/staff, but it doesn't provide any information about the nature of those interactions. A meeting recorded in the Registry could be limited to a brief conversation while passing in the hallway, or it could be a full-blown sitdown with an awkward ice-breaker activity and a very boring PowerPoint presentation with lots of 3D pie charts.
Lobbyist Watch is not meant to be comprehensive summary of all lobbying activity — there are hundreds of interactions each month — but merely the highlights.
Blue Jays President Mark Shapiro registers as a lobbyist, meets with Councillor Joe Cressy about future of Rogers Centre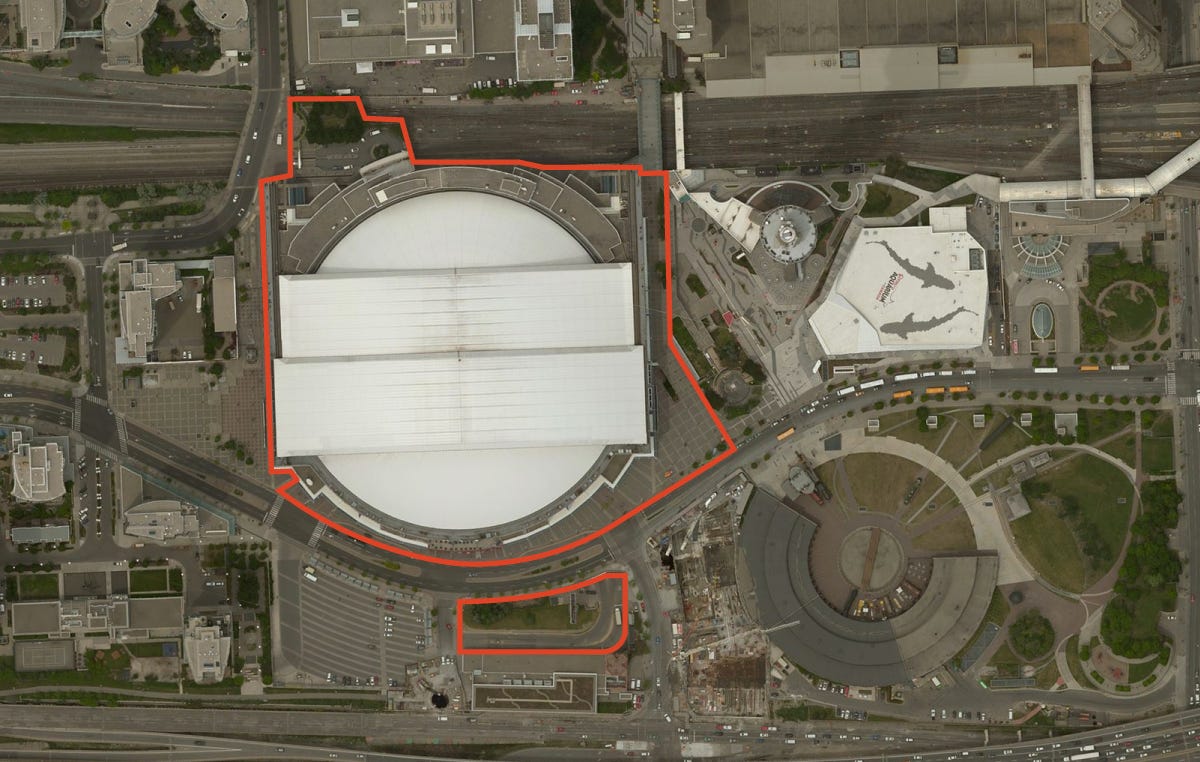 A celebrity sighting in the Lobbyist Registry: Toronto Blue Jays President Mark Shapiro has registered to lobby on "future plans for the Rogers Centre, the surrounding area, and City's leasehold interest in the subject site."
Along with Rogers Chairman Edward Rogers and other higher-ups from the Rogers and Blue Jays organizations, Shapiro logged a meeting with Councillor Joe Cressy on July 10 to discuss the future of the ballpark.
Also recording a meeting with Cressy on the same subject on the same day: reps from Brookfield Property Group, one of the world's largest property developers, and Amir Remtulla, lobbyist extraordinaire and former chief of staff to Mayor Rob Ford.
The Rogers Centre is one of the older ballparks in Major League Baseball. Since he took the Blue Jays President gig, Shapiro has put an emphasis on improving the stadium experience, but hasn't been very forthcoming with details.
There are a bunch of proposals for large-scale construction projects near the Dome, including a $3.5 billion Oxford Properties project and the City's Rail Deck Park plan.
Thermal spa company still has sights set on Ontario Place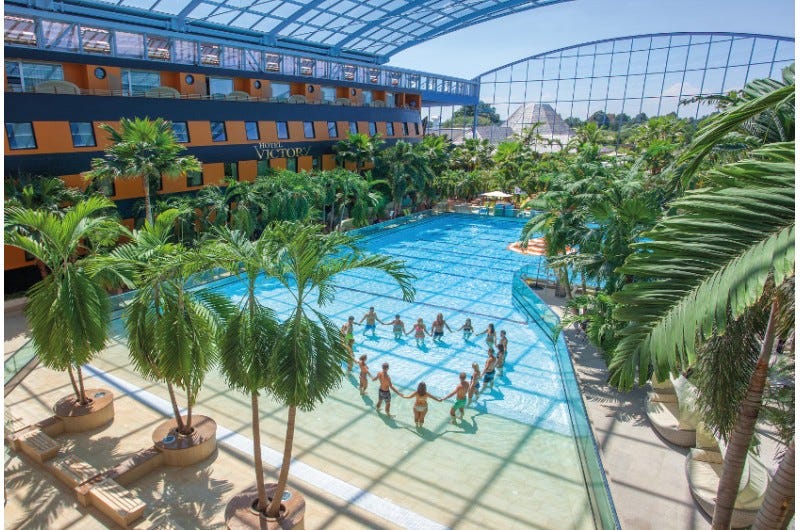 Therme Erding, where people spontaneously hold hands and stand in the shape of a heart
Lobbying firm StrategyCorp continues to work on behalf of Therme Group, advocating for their proposal for Ontario Place. Therme builds and operates giant domed spa complexes. They're big in Europe.
In July, lobbyist Aidan Grove-White met with Courtney Glen in John Tory's office on July 18 and continued to reach out to Joe Cressy's office.
Therme has also hired Amir Remtulla. You're going to see his name a few more times in this newsletter.
RideShare companies hail a lot of lobbying ahead of Council vote
On July 16, Council voted 22-1 to adopt revised regulations for taxis and Private Transportation Companies (PTCs) like Uber and Lyft. The debate included a surprise motion by Councillor Gord Perks that would have, if successful, effectively banned PTCs from operating in Toronto. It failed 6-17.
As you'd expect, there was a whole whack of lobbying in the lead-up to the debate. This was the most-lobbied issue in July by a wide margin.
Kim Wright of Wright Strategies was busy on behalf of Uber Canada. She logged 45 entries in the Registry, including meetings with several councillors and staff in the mayor's office.
But she fell just a tiny bit short of beating Crestview Strategy's Kate Moseley-Williams, who logged 46 lobbyist interactions on behalf of Lyft Canada. A photo finish.
On the taxi industry side, Kristine Hubbard of Beck Taxi was active, logging 28 communications to several councillors on July 15 — the day before the vote.
Sidewalk Toronto lobbying on fire
It was a relatively quiet month on the lobbying front for Sidewalk Toronto.
Sidewalk staffers Habon Ali, Keira Webster and Pino Di Mascio recorded a meeting with the Director of the Waterfront Secretariat and other city planning staff on July 11 Prem Ramaswami met with IT staff from various city divisions and departments on July 22.
More interesting is a new lobbying registration for CHM Fire Consultants. They're working on Sidewalk's behalf to communicate "about fire testing procedures and licenses, specifically procedures and licenses related to demonstration burns." Dr. Steven Craft of CHM has been emailing and calling staff from Toronto Fire and Toronto Building. It's unclear what — if anything — Sidewalk is looking to burn.
Purolator wants to use electric cargo bikes for deliveries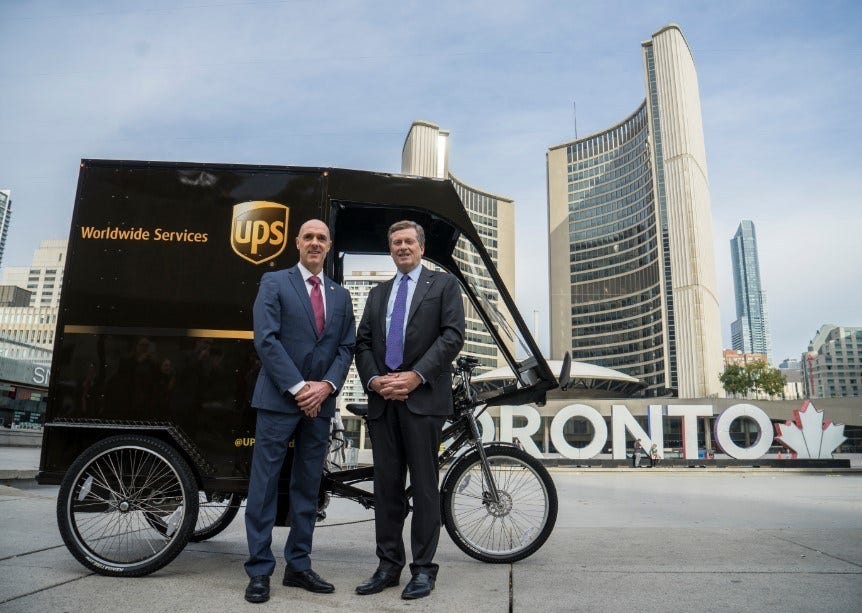 Way back in 2017, UPS Canada announced a pilot project to use cargo bikes for deliveries on York University campus. Earlier this year, Council approved the use of cargo bikes as maintenance vehicles as a pilot project in Allan Gardens.
Now Purolator seems to want in on the cargo bike action.
Lobbyists with the shipping company met with staff from Transportation Services to express their desire for "changes from the City of Toronto of its by-laws and other regulations to allow for e-Cargo bikes." Though the earlier moves toward embracing cargo bikes were well-received, adding electricity could cause some controversy — especially if the idea is that these vehicles will be able to use bike lanes.
Canada Running Series hires lobbying firm to talk up Toronto waterfront marathon
Following some in-house lobbying by Race Director Alan Brookes earlier this year, Canada Running Series has hired Sutherland Corporation to lobby on the subject of the Scotiabank Toronto Waterfront Marathon, held every fall. On July 9, Sutherland lobbyists met with Councillor Brad Bradford.
Last year, the Economic Development Committee requested a report on strengthening running tourism in Toronto. The report is due sometime this year.
Familiar faces
Tech 4 sale
Lobbying grab bag
The curious case of Club Coffee
Midway through the July Council meeting, Councillor Michael Ford raised some eyebrows when he introduced a motion about "diverting coffee pods from landfills." He said his last-minute addition to the agenda was urgent because "inaction on this issue will potentially lead to hundreds of lost jobs in Etobicoke."
Ford's motion called for a report to be written in time for December "on a design for a potential pilot project to permit compostable/biodegradable coffee pods to be processed in the City's Green Bin Program." Councillor Gord Perks took issue with the urgency rationale and successfully got councillors to instead refer the whole matter to the General Manager of Solid Waste for further consideration.
Lobbying records for North Etobicoke-based Club Coffee give some clues to what motivated the whole thing. In late June, Club Coffee hired StrategyCorp to lobby on the subject of "achieving approval of client's products as compostable in Toronto's green bin program." StrategyCorp's Aidan Grove-White was subsequently in communication with staff in Ford's office on July 11, July 15, July 16 and July 17. In-house lobbyists for Club Coffee were also in communication with Ford's team.
Perks' motion to refer Ford's motion came on July 18. The final vote was 14-3 in favour of referral. Ford wasn't in the chamber for the vote, so was marked absent.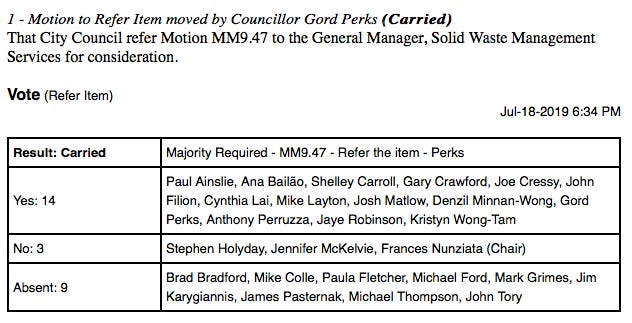 ---
Lobbyist Watch will return next month. To make sure you get it, join hundreds of other subscribers to City Hall Watcher for $5 a month or $50 a year.
---
In other news
---
The week at Toronto City Hall
MONDAY: It was Simcoe Day! Or the Civic Holiday! Or Natal Day! Or Terry Fox Day! Or… Saskatchewan Day? British Columbia Day? New Brunswick Day? Some notable provinces need to get more creative with their holiday naming. Pick up the effort.
TUESDAY: No meetings scheduled.
WEDNESDAY: The Board of Governors for Exhibition Place meet to consider a new collective agreement with LiUNA Local 506. They've been without a contract since March 31, 2018.
Also, the Bid Award Panel will convene to award various contracts to successful bidders, including a $389,206 contract for snack food for Toronto schools and community centres. Hope the deal includes some Fruit Roll-Ups. Those were fun.
THURSDAY: No meetings scheduled. But there is a TransformTO consultation at Scarborough Civic Centre at 6:30 p.m. You can register here.
FRIDAY: No meetings scheduled.
---
City Hall Watcher #30
A very special dedication this week: this one is for Ayla Saskia Elliott, born August 1 to my brother Chris and his wife Melissa. Born both two weeks early and three days late, which is one hell of a trick. No pressure, kid, but you'll have two major tasks in life. The first will be to listen to your parents. The second: invent some sort of gizmo to solve climate change.
Thanks for reading! And thanks for sticking with me for 30 weeks. When I started this thing in the dead of winter I wasn't sure I'd still be putting these out in the peak of summer. But you read it and paid for it and I couldn't be more grateful.
If you haven't yet subscribed, there won't be another free issue for ten weeks, so you're going to want to get on board or else you won't get to read this again until October! Think about how much could happen between now and then.
Gift subscriptions are always available if you want to send a municipal politics newsletter to that special someone in your life.
And your paid subscriptions continue to support my offering free subscriptions to students, aspiring journalists and anyone else who can't afford the cost.
Students: if you had a free subscription and it expired, re-apply. I'm currently giving out free one-year subscriptions to students enrolled in a program that starts in September. (And if you're just out of school and not exactly rolling in cash right now, I'll give you a free subscription too — don't be shy. I've been there.)
You can view the archives here. Questions? Feedback? Just reply to this message.
Next week: a look at climate change and parking minimums. It'll come to your Inbox Monday by 5 p.m. See you then.