Discover more from City Hall Watcher
A weekly newsletter about Toronto City Council by Matt Elliott
Over 6,000 subscribers
Need for Speed: Open Data edition
City Hall Watcher #62: The debut of OPEN DATA CHALLENGE, with a look at mobile speed sign data, plus COVID-19, right-turns-on-red & the Bid Award Panel
These are fraught and trying times. I hope you're safe. I hope your family is safe. I hope you're washing your hands and staying home. I hope you're staying informed, by reading fine journalistic outlets and checking the City's COVID-19 resources. I hope your employer is understanding and accommodating and damn well paying you. I hope, if you're able, you can use this opportunity to bingewatch the hell out of some truly trashy television.
All that said, aside from maybe carrier pigeons or Facebook, it's hard to imagine a worse method for communicating the latest pandemic news than a weekly email newsletter. So I will not be bringing you the latest details on COVID-19 in the weeks ahead.
Instead, I'll be presenting an alternative: interesting things that might serve as welcome diversion from the main narrative of our lives. Today, I've got the debut of what I've called OPEN DATA CHALLENGE — a dive into one of the City's Open Data datasets. I've got a list of the places where drivers go the fastest past those digital "Watch Your Speed" signs the city set up. It's pretty fun.
If you think someone could use a distraction like City Hall Watcher during these turbulent times, please share this newsletter with a pal.
— Matt Elliott / @GraphicMatt / graphicmatt@gmail.com / CityHallWatcher.com
---
Open Data Challenge: the six fastest streets that have had a mobile "watch your speed" sign

Open Data Challenge is a new recurring feature in which I analyze a dataset provided through Toronto's Open Data service. In this edition: the areas of the city where drivers go fastest past those digital "Watch Your Speed" signs.
The challenge: Starting in 2014, the City began experimenting with a roll-out of digital "Watch Your Speed" signs. Unlike traditional boring speed limit signs, the digital signs measure the speeds of passing drivers and display them, giving drivers a visual indication of how dang fast they're going.
The City has found these signs to be effective. After a pilot with ten signs installed in school zones in 2014-2015, staff reported decreases in average speeds and a decrease in the overall number of drivers exceeding the speed limit in these areas. The roll-out was extended. Last summer, the City reported they now had 188 "Watch Your Speed" signs, which are rotated through various locations across the city.
The City publishes datasets that include a bunch of recorded information from these signs, including a summary of speeds.
I wanted to see if I could use it to find the locations with "Watch Your Speed" signs where drivers have gone the fastest.
The dataset: I'll be using Mobile Watch Your Speed Program – Detailed Speed Counts from the City's Open Data portal. I downloaded a csv file and opened it in Microsoft Excel.
The method: The summary data provides speeds at every location that has had a mobile "Watch Your Speed" sign, broken down by percentile. I sorted the data by the 50th percentile column, so the list of locations is ordered by median speed.
I then put together a list of the six locations where the median speed was highest. I also list the 95th percentile speed, so you get an idea of how fast the speediest five per cent of drivers were moving. (At locations where signs were placed multiple times, I took the fastest measures.)
Finally, I cross-referenced these locations with the City's Vision Zero mapping tool, to see if there's a history of collisions.
The caveats: These signs are rotated to new locations every month or so. Data is only updated after a sign's installation has ended, so data is at least a month old. The City also has some permanent "Watch Your Speed" locations in school zones, which are in a separate dataset for which there is no summary. They're not included in this analysis.
The dataset also lists the speed limits at all sign locations as 50 km/h, which doesn't seem to be true. I've ignored that column.
Also, this data could be unduly influenced by unruly office workers.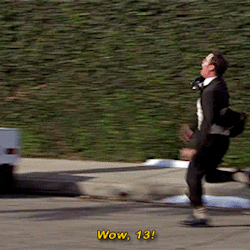 Here are the six fastest locations that have hosted a mobile "Watch Your Speed" sign. Images are via Google Maps. Locations pictured will not match exact location of the signs, but give you an idea of the road design.
1. Morningside Avenue, between Beath Street & Ellsemere Road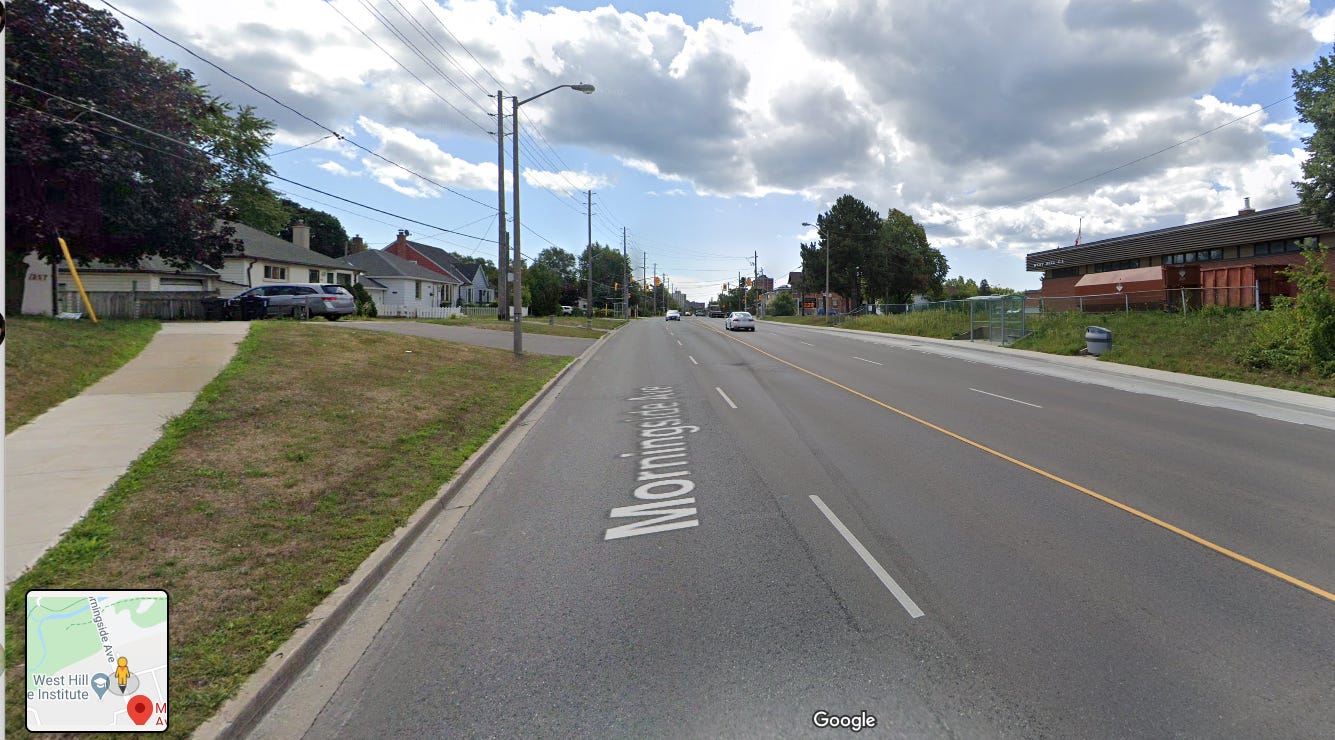 Ward: 24 (Scarborough-Guildwood)
Median Speed: 69 km/h
95th Percentile Speed: 88 km/h
The City has placed a mobile "Watch Your Speed" sign at this location six separate times, northbound and southbound, and each time the median speed has been faster than at any other location.
It's a wide four-lane road that passes by West Hill Collegiate Institute. The fastest five per cent of drivers are going quick enough to travel back in time.
Vision Zero History: Two serious injuries for motorists, recorded April 24, 2013 and July 31, 2016.
2. Bayview Avenue, between Bloor Street & Pottery Road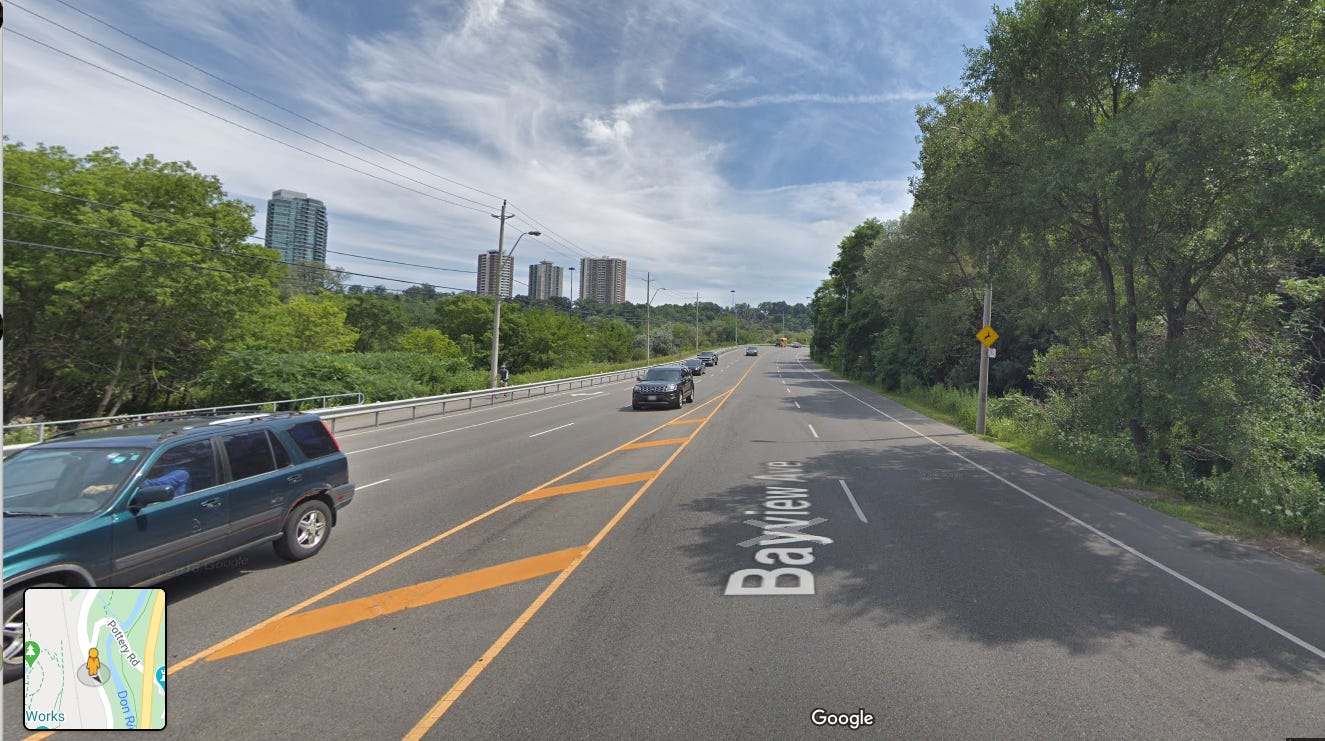 Ward: 11 (University Rosedale)
Median Speed: 63 km/h
95th Percentile Speed: 82 km/h
The City posted mobile signs both northbound and southbound in March of 2019, both with similar results. The speed of this highway-like stretch of road has been the subject of some controversy at Council. In June 2016, the speed limit was lowered to 50 km/h as part of the initial Vision Zero plan. In December 2017, after a divisive debate, Council voted 20-19 to raise the limit back to 60 km/h. The location is right near the Evergreen Brickworks, a popular destination for cyclists, pedestrians and families.
Vision Zero History: Motorist fatality on January 1, 2018. Motorist injury on June 5, 2010. Motorcycle injury on June 6, 2017. Motorcyclist fatality on July 8, 2017.
3. Eglinton Avenue, between Royal York Road & Scarlett Road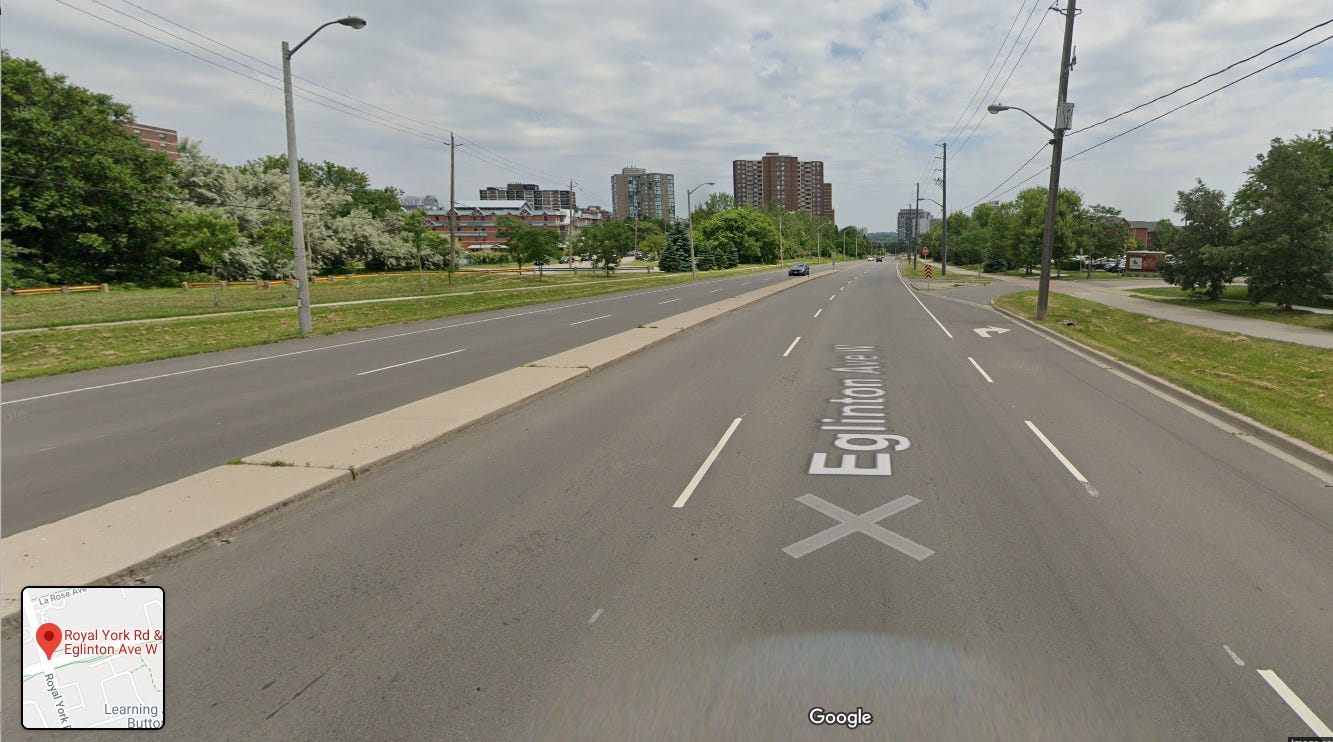 Ward: 2 (Etobicoke Centre)
Median Speed: 63 km/h
95th Percentile Speed: 80 km/h
Located near a seniors home, the July 2019 installation of a mobile speed sign on Eglinton West recorded pretty fast speeds. The median here seems to encourage drivers to treat the street like a highway.
Vision Zero History: Pedestrian serious injuries on March 5, 2011 and February 23, 2018. Motorcyclist injuries on September 22, 2018 and August 31, 2018. Motorist death on January 7, 2018.
4. Leslie Street, between Denlow Boulevard & Talwood Drive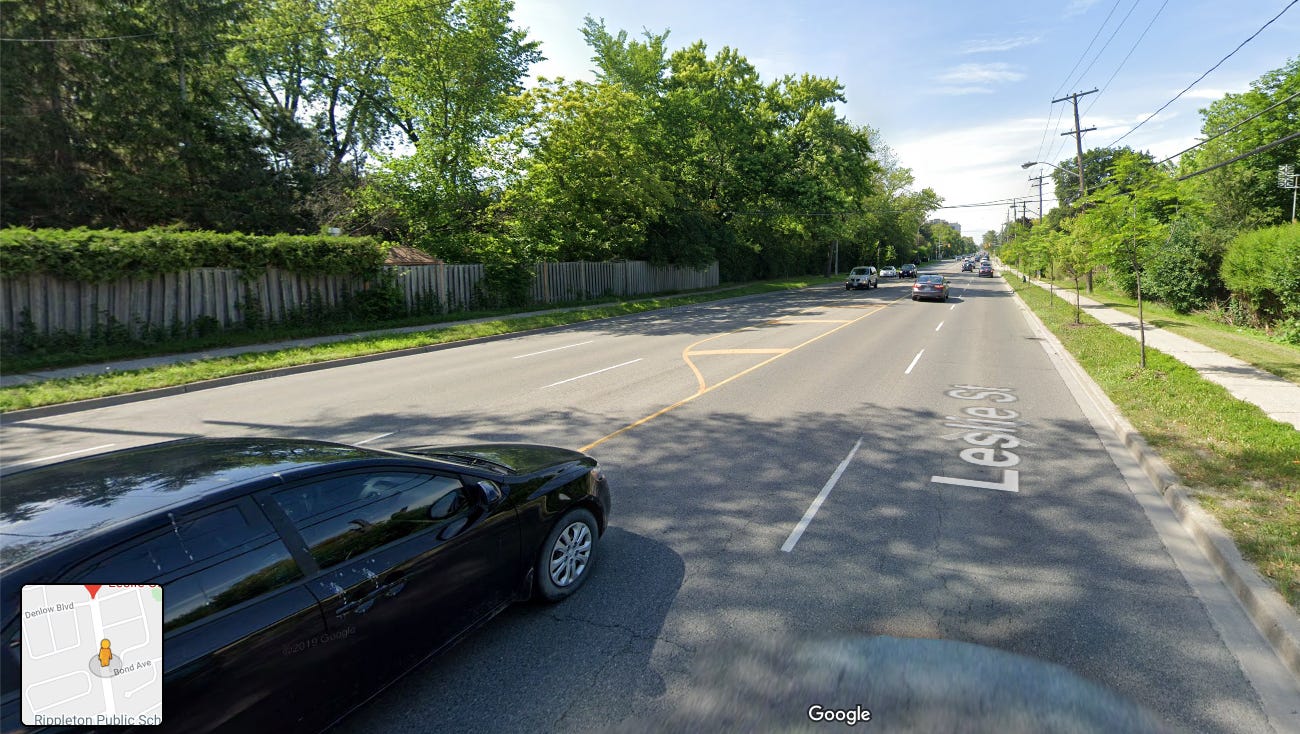 Ward: 16 (Don Valley East)
Median Speed: 63 km/h
95th Percentile Speed: 81 km/h
A northbound sign was installed on this street in September of 2019.
Vision Zero History: None, but there was injuries to pedestrians and motorists recorded just south of here, at the intersection of Leslie & Lawrence.
5. Martin Grove Road, between Potterfield Road and Jeffcoat Road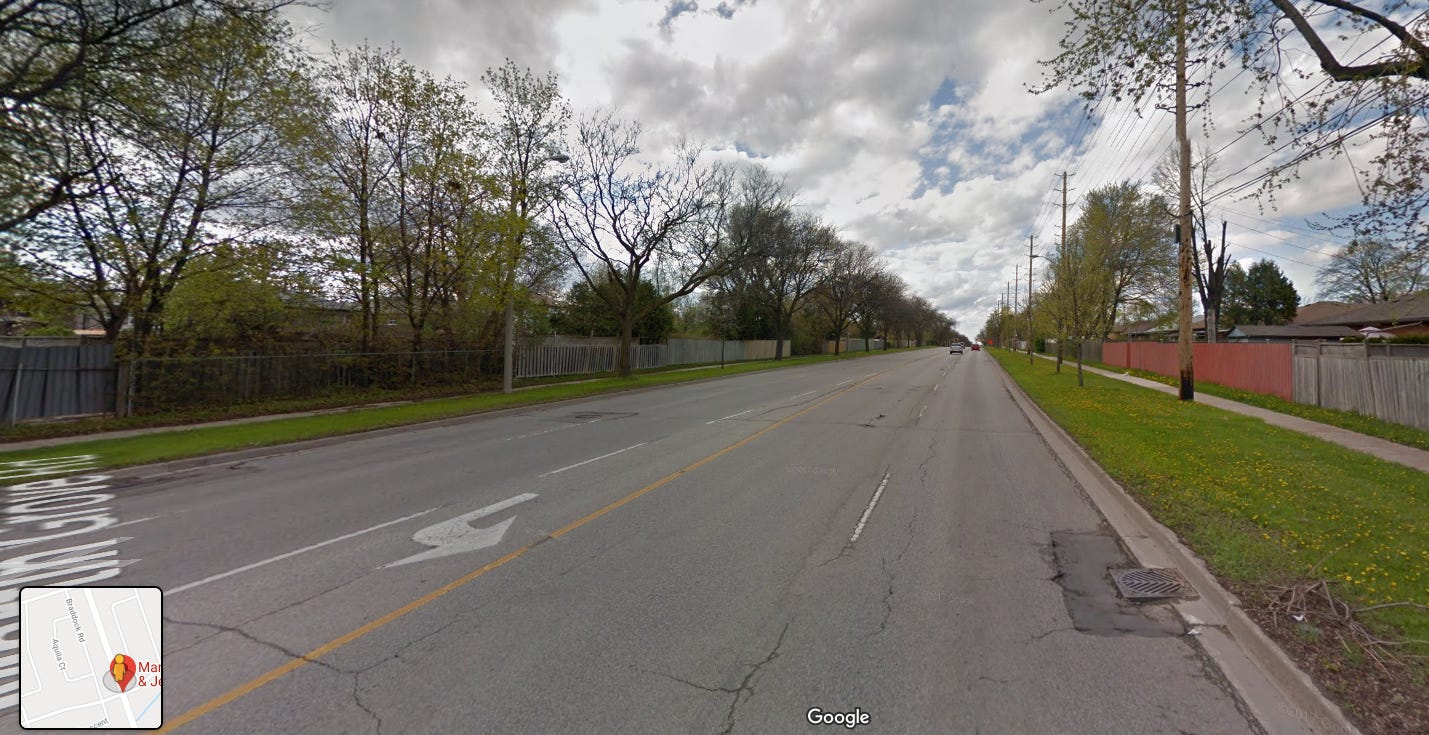 Ward: 1 (Etobicoke North)
Median Speed: 62 km/h
95th Percentile Speed: 80 km/h
A long stretch of road without stoplights, with backyard fences on both sides. Easy to imagine putting the pedal down here.
Vision Zero History: Motorist seriously injured on April 2, 2017.
6. Middlefield Road, between Passmore Avenue & McNicoll Avenue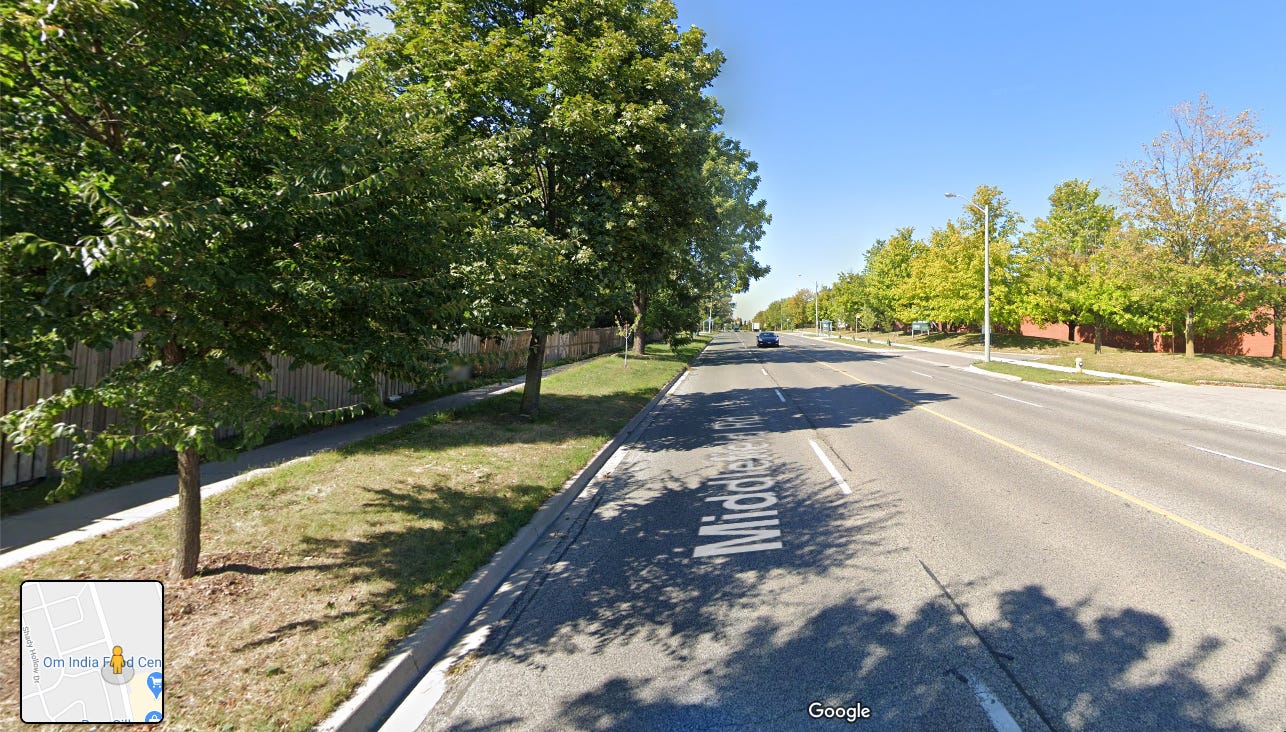 Ward: 23 (Scarborough North)
Median Speed: 62 km/h
95th Percentile Speed: 78 km/h
A busy street with residents on one side and commercial plazas on the other.
Vision Zero History: Cyclists seriously injured on September 16, 2011 and September 10, 2018. Pedestrian seriously injured on June 28, 2017.
Honourable mentions
Just outside the top six:
Leslie Street, between Cummer and Old Cummer. (Ward 17)

Wincott Drive, between Rockcastle and Petit. (Ward 2)

Warden Avenue, between Boem and Tower (Ward 21)

McCowan Road, between Middlefield and Sandhurst (Ward 23)
Bonus: St. David Street, between Sumach Street & Regent Street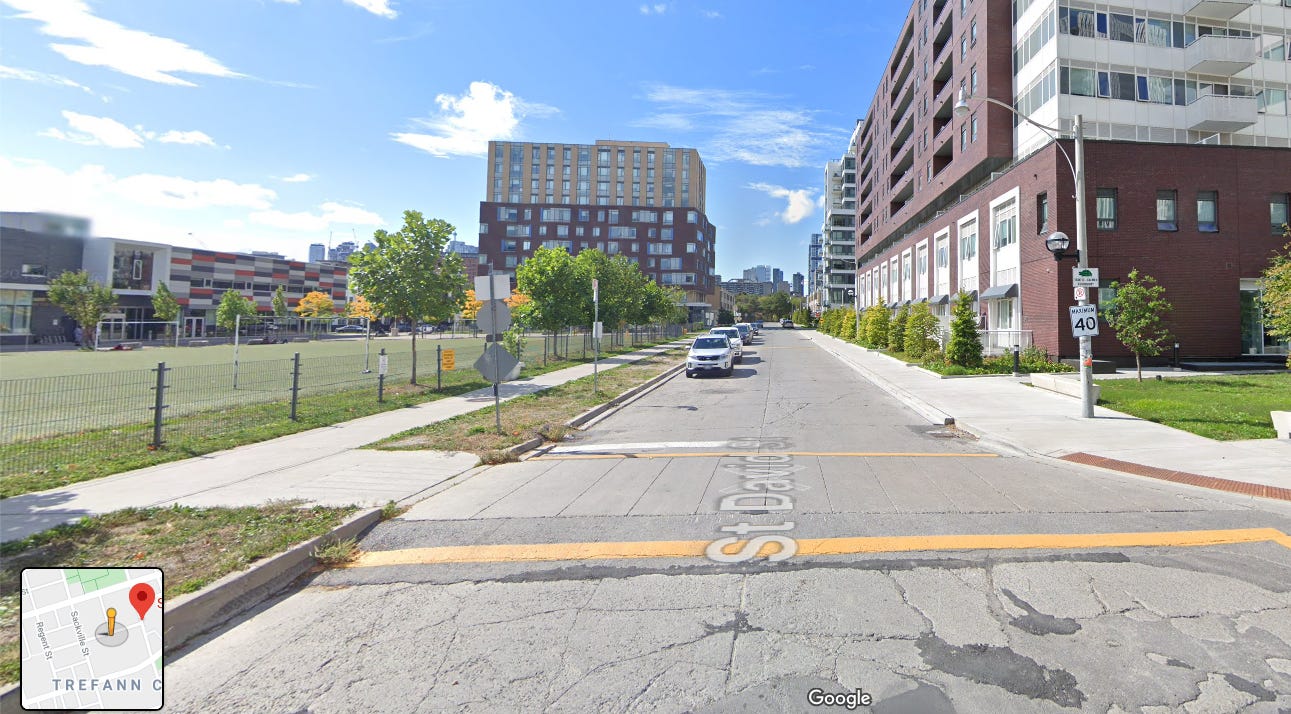 Ward: 13 (Toronto Centre)
Median Speed: 12 km/h
95th Percentile Speed: 21 km/h
The "Watch Your Speed" sign that observed the slowest 95th percentile speed was here, on this quiet narrow road in Regent Park just outside Nelson Mandela Park Public School. Dig that raised crosswalk. Even the fastest drivers observed here were only going about half the 40 km/h speed limit.
Vision Zero History: None.
---
More from Matt: on restricting right turns on red
I spent some time last week in my inbox arguing with people who thought I was joking after I wrote a column suggesting a widespread ban on right turns at red lights. It wasn't a joke, I assured them. My jokes are funnier.
I actually got a lot of thoughtful feedback on this one. Some made the reasonable argument that right-turn-on-red is down on the list of priorities when it comes to making roads safer. The general lack of traffic enforcement is definitely a much bigger issue.
But as I wrote in my piece for the Toronto Star last week, a ban on right turns on red in a designated downtown area could be implemented very quickly. It could also theoretically be enforced using red light cameras.
On his blog, Sean Marshall wrote a great piece about his experience going to City Hall to depute on the right-turn-on-red motion.
The Councillor Mike Layton motion to the Infrastructure & Environment Committee that inspired my piece was ultimately adopted by committee. Deputy Mayor Denzil Minnan-Wong added a bit about investigating how traffic congestion has "increased stress on drivers, increased aggressive behaviour and accidents."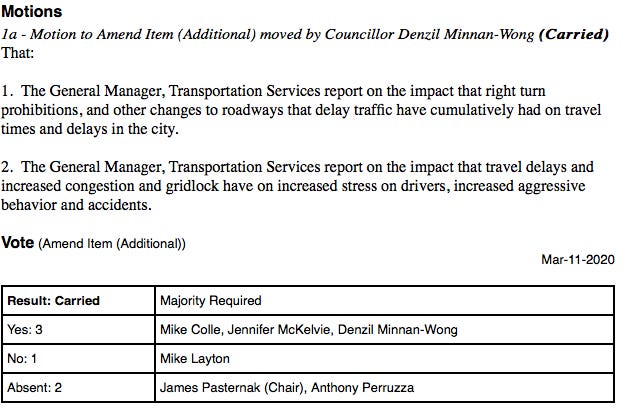 This week in the Star, I've got an ode to Toronto Public Health in these tumultuous times. Remember when some people wanted to cut its funding? Wild. Find my column in your newspaper tomorrow.
---
In other news
---
The week at Toronto City Hall
The City announced Friday that all Council and committee meetings will be cancelled through at least April 3 due to COVID-19. That means this section will be considerably shorter than it usually is!
But one weekly meeting remains on the schedule. Bid Award Panel, it is at last YOUR time to shine.
MONDAY: No meetings scheduled.
TUESDAY: No meetings scheduled.
WEDNESDAY: 🏆 Bid Award Panel contract award of the week: $564,575 for inlet control devices for a storm trunk sewer system.
It's a pilot project. If I've learned one thing in my life, it's that you never want to commit to inlet control devices without a pilot project.
THURSDAY: No meetings scheduled.
FRIDAY: No meetings scheduled.
NEXT WEEK: Nothing but Bid Award Panel. What kind of bids will the panel award? You'll find out here.
---
City Hall Watcher #62
Thanks for reading! Hope you enjoyed. In the weeks ahead, I've got plans for more OPEN DATA CHALLENGE stories, plus COUNCIL POWER RANKINGS, LOBBYIST WATCH — they can still lobby via email and phone! — and other policy stuff to dig into.
I'm hoping this newsletter serves as a hopeful beacon in your inbox — a reminder that one day things will return to something resembling normalcy, and I will be telling you how councillors voted again.
Until then, stay safe and stay home. See you next week.